Oscar 2023, trionfa Everything Everywhere All at Once, Brendan Fraser migliore attore protagonista con The Whale. Tutti i vincitori
Emozioni per Jamie Lee Curtis che a 64 anni vince la sua prima statuetta come attrice non protagonista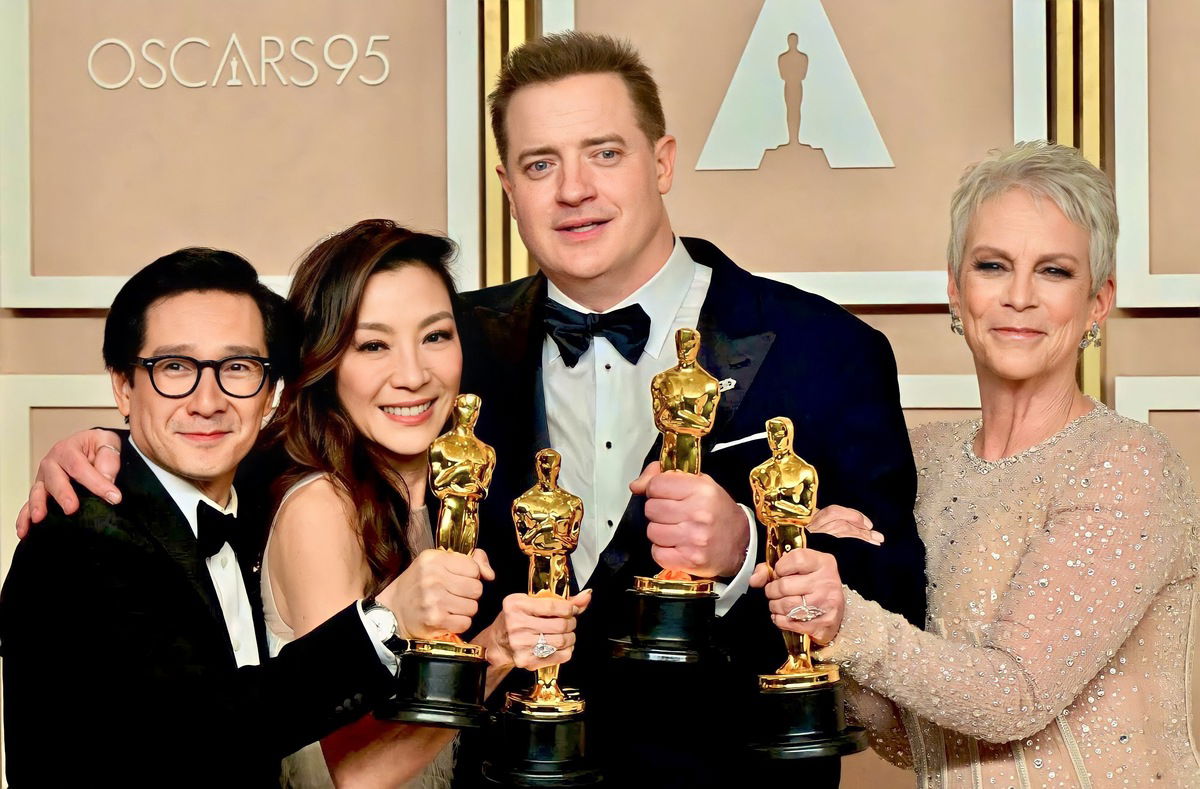 Ieri sera è andata in onda la celebre notte degli Oscar. A trionfare il film Everything Everywhere All at Once di Daniel Kwan e Daniel Scheinert, che hanno portato a casa ben sette statuette su undici candidature.
La pellicola è stata premiata nelle categorie principali: miglior film, migliore attrice protagonista, miglior regia, migliori attori non protagonisti e miglior sceneggiatura originale.
Grandi emozioni per Jamie Lee Curtis che a 64 anni ha vinto la sua prima statuetta per Everything Everywhere All at Once. Brendan Fraser ha invece trionfato come miglior attore protagonista con The Whale:
"So this is what the multiverse looks like…"

Brendan Fraser accepts the Academy Award for Best Actor for "The Whale."#Oscars#Oscars95https://t.co/OizA2V2cyr pic.twitter.com/tdV0jNJkQN

— ABC News (@ABC) March 13, 2023
Nessun premio per l'Italia, in gara con Le Pupille di Alice Rohrwacher.
Sul palco, con le loro performance, sono salite Lady Gaga e Rihanna che hanno ottenuto una standing ovation:
Lady Gaga performs a stripped-down version of "Hold My Hand" at the #Oscars. https://t.co/ndiKiHeOT5 pic.twitter.com/dLlahLTjht

— Variety (@Variety) March 13, 2023
Ecco tutti i vincitori:
Miglior film:
Avatar – La via dell'acqua
Gli spiriti dell'isola
Elvis
Everything Everywhere All at Once
Niente di nuovo sul fronte occidentale
The Fabelmans
Tár
Top Gun: Maverick
Triangle of Sadness
Women Talking – Il diritto di scegliere
Miglior regista:
Martin McDonagh – Gli spiriti dell'isola
Daniel Kwan e Daniel Scheinert – Everything Everywhere All at Once
Steven Spielberg – The Fabelmans
Todd Field – Tár
Ruben Östlund – Triangle of Sadness
Miglior attore protagonista:
Austin Butler – Elvis
Colin Farrell – Gli spiriti dell'isola
Brendan Fraser – The Whale
Paul Mescal – Aftersun
Bill Nighy – Living
Miglior attrice protagonista:
Cate Blanchett – Tár
Ana de Armas – Blonde
Andrea Riseborough – To Leslie
Michelle Williams – The Fabelmans
Michelle Yeoh – Everything Everywhere All at Once
Miglior attore non protagonista:
Brendan Gleeson – Gli spiriti dell'isola
Brian Tyree Henry – Causeway
Judd Hirsch – The Fabelmans
Barry Keoghan – Gli spiriti dell'isola
Ke Huy Quan – Everything Everywhere All at Once
Miglior attrice non protagonista:
Angela Bassett – Black Panther: Wakanda Forever
Hong Chau – The Whale
Kerry Condon – Gli spiriti dell'isola
Jamie Lee Curtis – Everything Everywhere All at Once
Stephanie Hsu – Everything Everywhere All at Once
Migliore sceneggiatura originale:
Martin McDonagh – Gli spiriti dell'isola
Daniel Kwan e Daniel Scheinert – Everything Everywhere All at Once
Steven Spielberg e Tony Kushner – The Fabelmans
Todd Field – Tár
Ruben Östlund – Triangle of Sadness
Migliore sceneggiatura non originale:
Edward Berger, Lesley Paterson e Ian Stokell – Niente di nuovo sul fronte occidentale
Rian Johnson – Glass Onion – Knives Out
Kazuo Ishiguro – Living
Ehren Kruger, Eric Warren Singer e Christopher McQuarrie – Top Gun: Maverick
Sarah Polley – Women Talking
Miglior film internazionale:
Niente di nuovo sul fronte occidentale (Germania)
Argentina, 1985 (Argentina)
Close (Belgio)
EO (Polonia)
The Quiet Girl (Irlanda)
Miglior film d'animazione:
Pinocchio di Guillermo del Toro
Marcel the Shell
Il gatto con gli stivali 2 – L'ultimo desiderio
Il mostro dei mari
Red
Miglior montaggio:
Mikkel E. G. Nielsen – Gli spiriti dell'isola
Matt Villa e Jonathan Redmond – Elvis
Paul Rogers – Everything Everywhere All at Once
Monika Willi – Tár
Eddie Hamilton – Top Gun: Maverick
Miglior scenografia:
Christian M. Goldbeck ed Ernestine Hipper – Niente di nuovo sul fronte occidentale
Dylan Cole, Ben Procter e Vanessa Cole – Avatar – La via dell'acqua
Florencia Martin e Anthony Carlino – Babylon
Catherine Martin, Karen Murphy e Bev Dunn – Elvis
Rick Carter e Karen O'Hara – The Fabelmans
Miglior fotografia:
James Friend – Niente di nuovo sul fronte occidentale
Darius Khondji – Bardo, la cronaca falsa di alcune verità
Mandy Walker – Elvis
Roger Deakins – Empire of Light
Florian Hoffmeister – Tár
Migliori costumi:
Mary Zophres – Babylon
Ruth E. Carter – Black Panther: Wakanda Forever
Catherine Martin – Elvis
Shirley Kurata – Everything Everywhere All at Once
Jenny Beavan – La signora Harris va a Parigi
Miglior trucco e acconciatura:
Heike Merker e Linda Eisenhamerová – Niente di nuovo sul fronte occidentale
Naomi Donne, Mike Marino e Mike Fontaine – The Batman
Camille Friend e Joel Harlow – Black Panther: Wakanda Forever
Mark Coulier, Jason Baird e Aldo Signoretti – Elvis
Adrien Morot, Judy Chin e Anne Marie Bradley – The Whale
Migliori effetti speciali:
Frank Petzold, Viktor Müller, Markus Frank e Kamil Jafar – Niente di nuovo sul fronte occidentale
Joe Letteri, Richard Baneham, Eric Saindon e Daniel Barrett – Avatar – La via dell'acqua
Dan Lemmon, Russell Earl, Anders Langlands e Dominic Tuohy – The Batman
Geoffrey Baumann, Craig Hammack, R. Christopher White e Dan Sudick – Black Panther: Wakanda Forever
Ryan Tudhope, Seth Hill, Bryan Litson e Scott R. Fisher – Top Gun: Maverick
Miglior sonoro:
Victor Prasil, Frank Kruse, Markus Stemler, Lars Ginzel e Stefan Korte – Niente di nuovo sul fronte occidentale
Julian Howarth, Gwendolin Yates Whittle, Dick Bernstein, Christopher Boyes, Gary Summers e Michael Hedges – Avatar – La via dell'acqua
Stuart Wilson, William Files, Douglas Murray e Andy Nelson – The Batman
David Lee, Wayne Pashley, Andy Nelson e Michael Keller – Elvis
Mark Weingarten, James H. Mather, Al Nelson, Chris Burdon e Mark Taylor – Top Gun: Maverick
Migliore colonna sonora originale:
Volker Bertelmann – Niente di nuovo sul fronte occidentale
Justin Hurwitz – Babylon
Carter Burwell – Gli spiriti dell'isola
Son Lux – Everything Everywhere All at Once
John Williams – The Fabelmans
Migliore canzone originale:
Applause – Tell It Like a Woman
Hold My Hand – Top Gun: Maverick
Lift Me Up – Black Panther: Wakanda Forever
Naatu Naatu – RRR
This Is a Life – Everything Everywhere All at Once
Miglior documentario:
All That Breathes
All the Beauty and the Bloodshed
Fire of Love
A House Made of Splinters
Navalny
Oscar Miglior cortometraggio documentario:
The Elephant Whisperers
Haulout,
How Do You Measure a Year?
The Martha Mitchell Effect
Stranger at the Gate
Miglior cortometraggio:
An Irish Goodbye
Ivalu
Le pupille
Nattriken
The Red Suitcase
Miglior cortometraggio d'animazione:
The Boy, the Mole, the Fox and the Horse
The Flying Sailor
Ice Merchants
My Year of Dicks
An Ostrich Told Me the World Is Fake and I Think I Believe It